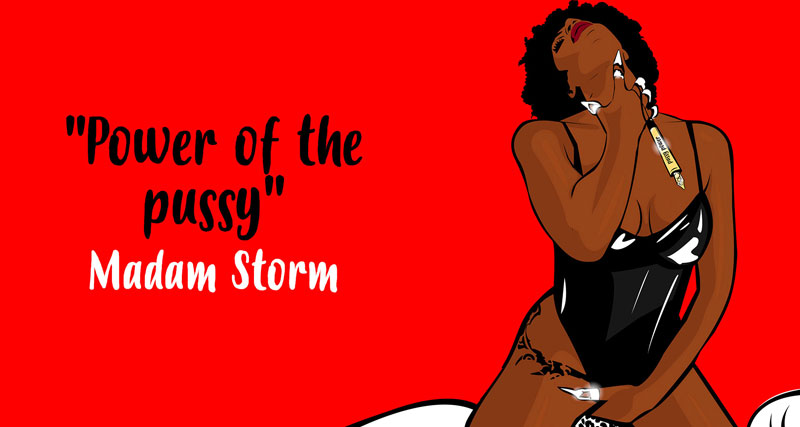 Hello Mistresses Written by Madam Storm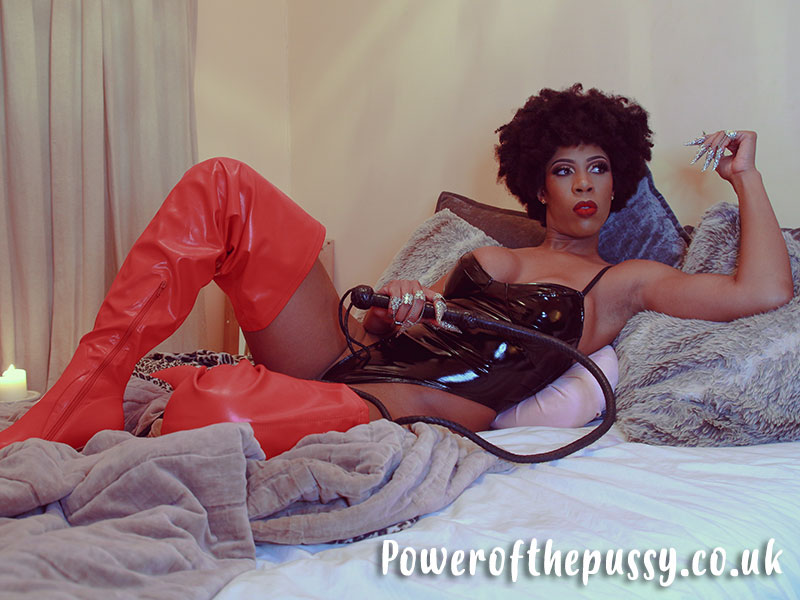 I believe you can tell a lot from a woman's choice of shoe—each heel representing her unique personality, style and attitude.
My love of heels has become both a kink and fetish of mine. I feel powerful and sexy when I strut in my six-inch heels; flashbacks of my lover sucking on my heel makes my kitty purr. 
As a Dominatrix, the shoes are a part of our uniform; when my pet buckles up my shinny black thigh boots, I'm instantly transformed, like a light switch; it turns me on!
One by one, I watch the heels of each new Mistress walk down the stairs.
Each lady is uniquely different; some dressed in shiny black latex, others in a sexy lingerie set, each lady is encouraged to dress in their character persona.
Hello, I'm Madam Storm; welcome to the dungeon!
To the left of me is my male sub, dressed in nothing but a harness, shaking in anticipation of meeting a new set of Mistresses to play with, holding a silver tray with six black champagne flutes, placed for each Mistress.
To the right of me is my female sub kneeling by my feet, awaiting further instructions.
The energy is electrifying. The women felt liberated by their attendance, surrounded by like-minded women in a non-judgemental, safe environment.
The groups are always different, which I love as it challenges me as a teacher; I have trained experienced Mistresses and complete novices.
Women attend my Mistress Training for different reasons; some desire to introduce kink into their relationships. Others have felt controlled in their vanilla relationships and seek a way to unlock their inner power. Mistress Training has helped women find their voice, and it teaches women how to be dominant, strong and assertive from the dungeon to the board room.
We spend a moment exploring the business aspect of being a professional dominatrix, the safety aspects, the importance of tonality and body language, consent and the psychology used to understand and captivate their subjects; it takes skill to seduce someone's mind.
Today not only will they become Dominatrices, but they'll also learn the art of being a seductress, a woman unapologetic, sexually confident and unafraid to exude their power into the world! 
"When we flirt with the world, the world flirts back." 
Building their Mistress character is a powerful part of my student's training; it teaches the power of creation; they can be their authentic selves with their newfound confidence. 
Some may call it creating your alter ego. I believe it's the part of you that's berried. 
The side of you that scares you, she's waiting for you to permit yourself to be FREE.  
I congratulate every woman who enters the dungeon. They've taken the first steps towards accepting their desires and kinks, no longer wanting to stay in the shadows of shame and conformity. The woman who seeks Mistress Training is ready to create her own values and beliefs; she has come to accept her calling, the need ti to unleash her inner Dominatrix, this step is not always easy. 
For many years I was fighting who I was; trying to fight who you are is like, trying to run away from your shadow. It wasn't until I recreated myself as Madam Storm I found true freedom and empowerment.
I knew I was home when I cracked my first whip; I was instantly turned on!
I watch my students grow in admiration as they embark on their journey of exploring their fetishes and kinks.
The dungeon is their playground, each individual, now trained and feeling fully confident to play on their own as I observe, the beauty is witnessing each woman become unafraid of their power.
One lady whispers in my ear, "Madam, I'm enjoying myself. Is this normal" I replied, "darling look around you, it's safe to say we all are" we laughed and hugged. She finally felt at home. A place where she was finally free, a feeling I understand because that's the feeling I felt 12 years ago when I first embarked on my journey into the unknown. 
To find out more about Madam Storm's Mistress Training please click here.
Subscribe to my blog and follow my personal journey of igniting The Power of The Pussy.
Like to say, yasssssssssss to The Power Of The Pussy.
Share to join me in empowering our fellow kweens.
Comment to show your love and support
Sending you love and power my darling!
XOXO
Madam Storm