Madam Storm's Power of the Pussy Blog
Sharing my stories with you is a very intimate experience, my intentions are to bring you an insight into my world, to pleasure, educate, explore together and empower you by sharing my stories that ignited my "Pussy Power" and led me to respect, celebrate and embrace the "Power of the pussy".
To view Madam Storm's blog postings simply click on the title which is highlighted in bold or the Read More button.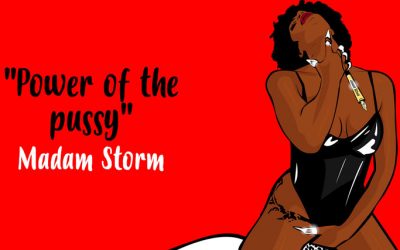 I believe you can tell a lot from a woman's choice of shoe—each heel representing her unique personality, style and attitude.
My love of heels has become both a kink and fetish of mine. I feel powerful and sexy when I strut in my six-inch heels; flashbacks of my lover sucking on my heel makes my kitty purr. 
As a Dominatrix, the shoes are a part of our uniform; when my pet buckles up my shinny black thigh boots, I'm instantly transformed, like a light switch; it turns me on!
One by one, I watch the heels of each new Mistress walk down the stairs.
Each lady is uniquely different; some dressed in shiny black latex, others in a sexy lingerie set, each lady is encouraged to dress in their character persona.
Hello, I'm Madam Storm; welcome to the dungeon!
read more