Mark Me!  Written by Madam Storm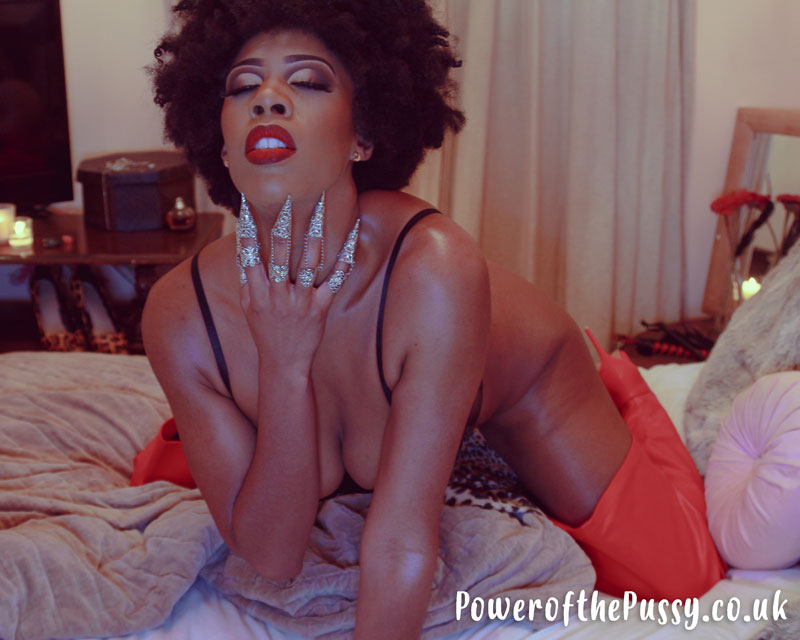 In this moment I want to feel owned, mark your territory, the pleasure I feel the next day looking in the mirror with flashbacks of his deep strokes, my hands firmly pressed against his back, he tells me not to move a feeling I have never experienced before, total submission, angry at the thought that he is dictating to me. How to move but in deep memorisation of his love inside of me that I had no choice but to submit, a feeling of total bliss, ecstasy as he makes love to me, in that moment I allow myself to be present, present in the moment allowing my body to fully enjoy the experience. Each stroke is taking me deeper into an orgasmic state, I feel my spirit leave my body with each moan. I feel myself elevating higher and higher, I am experiencing pleasure, physically, emotionally, and spiritually.
The sound of my satisfaction arouses him, and I am free to express myself, to express the joy I'm receiving with no shame or embarrassment, my moans get louder and louder as he penetrates me harder.
His dick stays hard for hours, his sex face excites me, his moans are aggressive as he communicates the pleasure he is receiving, I smile with satisfaction knowing my pussy feels good and he is lost in the sauce.
His grisly looks, handsome features and beautiful black skin has me in awe.
He gazes into my eyes as I watch his sweat run down his face into his black beard, now glistering from all his hard work.
His beautiful dark black skin against mine all 6ft 3 of it, his back is broad, his arms are strong as I tightly grip his biceps with anticipation of how his dick will penetrate me, as each stroke is different, soft and hard.
Hmm I'm having flashbacks as I type these words of how he grips my waist, bites the inside of my thighs, his hand around my neck with a firm grip, "mark me" I whisper in his ear, he turns my neck and sucks on my skin like a vampire.
He strokes my kinky hair, with admiration of my natural beauty with a soft touch and whispers in my ear "are you ok" which I reply "yes".
For me when a lover checks in with me, it tells me that he cares about me, he wants to make sure I am enjoying the experience, he is letting me know that he is here for my pleasure and enjoyment, these words of affirmation increases my arousal.
My lover fucks me for hours, laying passionate soft kisses on my lips, moving me into positions I've not yet experienced, he holds me tight and gazes into my eyes, my breast pressed against his chest, my hands placed around the back of his neck, sat with my legs wrapped around his strong body, my pussy muscles clinch together holding onto his long, thick hard dick as I exhale my breath into his mouth, he inhales then exhales his energy force back into me. That was the moment I fell in love with my lover. Or maybe I'm just dick whipped…..
His hips move in perfect rotation, an art form many men have not yet mastered, However I have been fortunate enough to have experienced a handful of great lovers all teaching me something different about myself.
This lover taught me how to be patient, how to relax and allow myself to be pleasured for hours, my intentions have now shifted from wanting to cum instantly, too enjoying the sensation of the journey towards my orgasm, not being able to move (consensual submission) allowed me to wait for him to make me cum, which he did repeatedly, the type of Cumming where you not only soak the sheets but you have to flip the mattress!!!! The love bites he leaves on my body are a reminder of the pleasure I experienced.
In my opinion a good lover is when he/she is invested in how you feel, respecting your body and boundaries, his/her intent is pure, they have invested in pleasuring you.
When I use the word fuck my feeling behind the word is from pure pleasure, not the fucking I experienced as a young woman, the type of fuck that makes you feel empty and worthless. I am talking about the fuck that makes you feel liberated, satisfied, and inspired!
I seek pleasure in everything I do, pleasure in my work, pleasure in worshipping myself, pleasure in writing, pleasure in conversing with fellow queen's, the list goes on, I am a pleasure whore.
As a sexually confident woman I am aware of what turns me on, I am open to discovering new pleasures, through masturbation, conversation and having an open mind, I find great joy in finding out new things about myself and because I am committed to receiving pleasure I am not afraid to vocalise what my needs are.
I read in a book that stated "your clear no, makes way for yes".
Removing shame from your desires allows you to be free, unapologetic as a sexual being, a woman! Becoming sexually confident allowed me to unlock my pussy power, comfortable with my sexuality, my body, my views, and my values.
Not afraid to tell my lover to fuck me, harder, softer, not afraid to tell him to place his hands around my neck and choke me.
I am not afraid to take control and put the pussy on him and ride his dick until I orgasm, unleashing the power of the pussy! My curvy hips moving in a circular motion like a hula hoop, I grab and caress my breast as my juices flow down his dick, the wetness of a river between my thighs, I am empowered and satisfied.
Subscribe to my blog and follow my personal journey of igniting The Power of The Pussy.
Like to say, yasssssssssss to The Power Of The Pussy.
Share to join me in empowering our fellow kweens.
Comment to show your love and support
Sending you love and power my darling!
XOXO
Madam Storm